Judges named for 2019 E3 Business Awards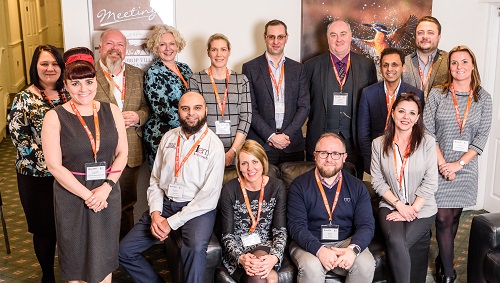 The judging panel members for the 2019 E3 Business Awards have been named.
The organiser, 1 Events Media, has selected a total of twenty individuals from the fields of business, education and enterprise support. They include five chairs who will lead the judging panel sessions. These sessions will ultimately determine the winners of the seventeen award categories. The chairs are:
Andrew Dewhurst, Managing Director, Affilius Group
Danny Simpson, CEO of MID Communications Ltd
Hywel Griffiths, MD of APD Resolutions Ltd and co-Director of Business Growth Solutions
Lisa Edge, CEO, GB Shared Ltd
Tracy Heatley, Managing Director, Business over Breakfast (NW)
The judges were chosen for their broad mix of sector experience and expertise. They include:
Anne-Marie Swift, Managing Director, Swift-Solve Consulting
Danny Callan, Director, IceBoxDesigns
Dionne Swift, Founder and Director, Burnley Campus Social Enterprise Ltd
Leanne Goodwin, Managing Director, Jobwise
Lisa Sourbutts, Director, Cube HR Consultancy
Liz Hey, Managing Director, Elizabeth Jane Associates
Martyn Shaw, Director, Business Development, University of Bolton
Naomi Timperley, Co-Founder, Tech North Advocates
Ram Gupta, Managing Director of Nybble Information Systems
Richard Alford, Managing Director, Black Bear IT Solutions
Richard Few, Chief Geek, Sales Geek
Samantha Ashton, Commercial Director, Packaging Automation
Thomas Kirk, Managing Director, Francis Kirk
The E3 Business Awards are now open to nominations from companies, entrepreneurs and social enterprises across the North West. The nomination deadline is 24th April.
The judging process will entail an examination of the initial written submissions, followed by interviews with the shortlisted nominees. These will take place between 11th and 13th June 2019 at the Last drop Village & Spa Hotel in Bolton.
The winners will be announced at the E3 Awards evening itself, which will take place on Thursday 11th July at the University of Bolton Stadium (previously known as Macron Stadium) in Bolton.
Speaking on 27th March, at the end of a specially organised judges' training day, 1EM managing director, Mubarak Chati said: "It's clear from meeting the 2019 panel that we have a very committed and enthusiastic collection of judges; experienced professionals who really understand the E3 ethos and recognise that the Awards are fundamentally about people and about inclusion.
"The Awards are based on a family culture; a belief that we are stronger when we support one another.  There was certainly a very strong sense of that at today's event, with the judges working together to agree on the fairest, most transparent scoring criteria, and listing all the things they could do to make nominees feel valued and special. As the organiser, I was extremely heartened – and grateful – to see so many people working so hard to support one another, all trying to ensure that the Awards process could deliver the greatest benefits to as many northwest businesses as possible."
Nominations for the 2019 E3 Business Awards can be submitted by clicking here.