Nominations Open – 2018 E3 Business Awards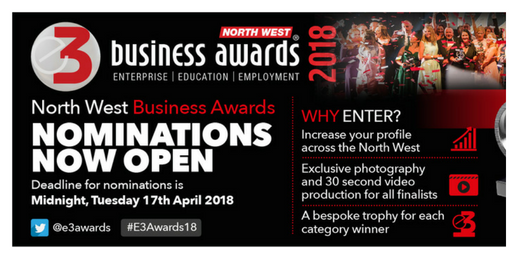 1 Events Media, the host of the annual E3 Business Awards, has announced that nominations for the 2018 event are now open.
There will be eighteen award categories this year, and entries are encouraged from small and medium sized business, entrepreneurs, charities and social enterprises throughout the North West.
The Awards ceremony will take place at the Macron Stadium in Bolton on Thursday 12th July 2018.
The Awards are open to enterprises from every county in the region – from Cumbria in the north to Cheshire in the south. 2017 saw a record number of nominations and the hosts expect to attract even more this year.
To encourage maximum participation by entrants throughout the North West, 1EM has set out the following award categories:
New Business Start up of the Year
Corporate Social Responsibility Award
Charity of the Year
Social Enterprise of the Year
Skills, Education & Training Award
Employer of the Year
Online Business of the Year
Digital, Creative and Media Award
Young Entrepreneur of the Year
Outstanding Woman in Business
Green Business of the Year
Family Business of the Year
Professional Firm of the Year
Customer Service Award
Manufacturing Business of the Year
High Growth Business of the Year
International Business of the Year
Business of the Year
These categories are designed to attract nominations from all kinds of businesses, not just those operating in the mainstream. The E3 Business Awards celebrate the positive impact that entrepreneurship has upon individuals and communities, as well as the fortunes of the region as a whole. Consequently, the organisers are keen to see representation by a broad spectrum of applicants, as 1EM managing director Mubarak Chati explains:
"The E3 Business Awards are about the three 'E's: Enterprise, Education and Employment. In other words, we're interested in hearing from companies and social enterprises that are improving lives as well as balance sheets. Skills and training, job creation and innovation are just some of the positive things that come from business success, so if candidates are producing positive results, we want to hear from them."
Entrants can nominate themselves or they can be nominated by others.