Judges named for 2018 E3 Business Awards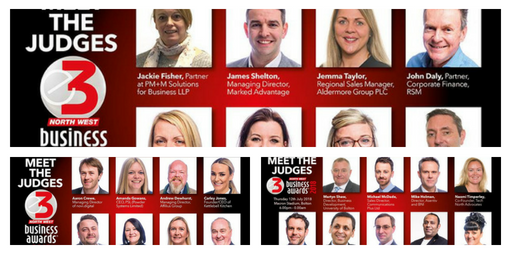 The judging panel for the 2018 E3 Business Awards has been named.
The organiser, 1 Events Media has selected a total of twenty-four judges from the fields of business, education and business support. These include five chairs who will lead the panel sessions covering the eighteen award categories.
The chairs are:
Jemma Taylor, Regional Sales Manager, Aldermore Group PLC
Lisa Edge, CEO, GB Shared Ltd
Paul Foster, Development Manager, Federation of Small Businesses
Amanda Gowans, CEO, PSL (Powder Systems Limited)
Hywel Griffiths, MD of APD Resolutions Ltd and co-Director of Business Growth Solutions
The judges have been chosen for their broad mix of sector experience and expertise. They include:
Aaron Crewe, Managing Director of novi.digital
Andrew Dewhurst, Managing Director, Affilius Group
Carley Jones, Founder/CEO of Kettlebell Kitchen
Danny Simpson, CEO of MID Communications Ltd
Dionne Swift, Founder and Director, Burnley Campus Social Enterprise Ltd
Emma Swan, Partner, Forbes Solicitors
Jackie Fisher, Partner at PM+M Solutions for Business LLP
John Daly, Partner, Corporate Finance, RSM
Leanne Goodwin , Managing Director, Jobwise
Liz Hey, Managing Director, Elizabeth Jane Associates
Mark Fahy, Head of UK SMEs, London Stock Exchange Group
Martyn Shaw, Director, Business Development, University of Bolton
Michael McDade, Sales Director, Communications Plus Ltd
Mike Holman, Director, Asentiv and BNI
Naomi Timperley, Co-Founder, Tech North Advocates
Saj Kadva (AMBII), Operations Director, Leisure Guard Security
Ram Gupta, Managing Director of Nybble Information Systems
Richard Alford, Managing Director, Black Bear IT Solutions
Tracy Heatley, Managing Director, Business over Breakfast (NW)
The judges will apply their collective experience to assessing award nominations from companies, entrepreneurs and social enterprises across the North West. The judging process will entail an examination of written submissions followed by interviews with all shortlisted nominees. These will take place between 8th and 10th May 2018 at the Macdonald Kilhey Court Hotel in Wigan.
The winners will be announced at the E3 Awards evening itself, which will take place on Thursday 12th July at the Macron Stadium in Bolton.
Speaking on 6th March, at the end of a specially organised judges' training day, 1EM managing director, Mubarak Chati said: "The judges will be looking for strongly-evidenced entries from all sorts of North West organisations and individuals – not just mainstream businesses. The E3 Business Awards celebrate diversity in all its forms, so we want to see plenty of representation on the part of women, young entrepreneurs, rural businesses, social enterprises and others.
"The judges themselves reflect this same focus on diversity and I'm very grateful to them for giving their time in this way. Many of them will be sitting on more than one panel, and it's their efforts that underpin the impartiality of the results. I'd like to thank them once again, and to remind North West businesses that they have until the 17th April to get their entries in."
Nominations can be submitted by downloading entry forms.