E3 Business Awards 2017 – Finalists Announced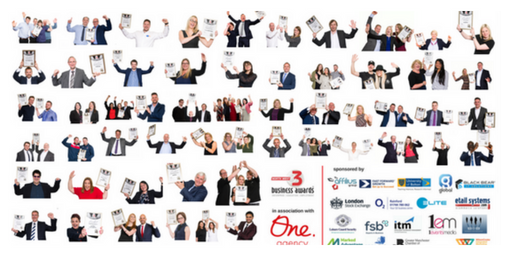 1 Events Media, the host of the 2017 E3 Business Awards, has named the 71 finalists that will be competing for this year's 17 award categories. The results will be announced at the E3 Business Awards Dinner, which will take place on Thursday 13th July at the Macron Stadium in Bolton.
Held annually since 2013, the E3 Awards are now in their fifth year. They celebrate diversity and achievement within the North West business community, and the nominees comprise a broad spread of companies, charities, social enterprises and individual entrepreneurs.
"The E3 Business Awards have really taken root in the regional business community," said 1EM managing director Mubarak Chati. "This year, the total number of nominations was 18% higher than last year, which was itself 25% up on the 2015 figure. In the run-up to the deadline, we received over a hundred entries in the last 48 hours alone. Importantly, too, we're seeing lots of new entrants, so it's not just the 'usual faces.' This year, 85% of the finalists will be new to the Awards.
"Every year, the E3 name seems to get more widely known, and each year's entries produce some surprises. This time , it was the number of nominees we received for the Outstanding Woman in Business category – the calibre of which has been breathtaking. We normally tend to have a shortlist of just four but, in this case, we felt compelled to extend it in recognition of the popularity of the category, and the exceptionally high standard of entrants."
Tickets for the awards dinner are now available. More details can be found at www.e3businessawards.co.uk.
The E3 Business Awards Finalists, 2017
New Business Start-Up of the Year:
Kettlebell Kitchen Ltd, Manchester
JG After Build Limited, Manchester
Embrace Marketing Ltd, Macclesfield
Monkey Banners, Blackpool
Corporate Social Responsibility Award:
net*, Kendal
Vision Support Services, Blackburn
VS Group, Manchester
Future Energy Solutions (NW) Ltd, Accrington
Charity of the Year
Birtenshaw, Bolton
Preston Vocational Centre Ltd, Preston
Lagan's Foundation, Bolton
Mancunian Way, Manchester
Social Enterprise of the Year:
Soroptimist International Great Britain & Ireland (SIGBI), Stockport
SEED/Breathe Therapies, Blackpool
Nightstop Communities Northwest CIC (NCNW), Widnes
Burnley Campus Social Enterprise Ltd, Burnley
Skills, Education & Training Award:
Coaching Connexions Ltd, Liverpool
Embrace Marketing Ltd, Macclesfield
Exchange Utility, Bury
3B Training Ltd, Bolton
Employer of the Year:
Bridgewater Home Care, Wigan
Jobwise Limited, Bolton
novi.digital ltd, Lancaster
Packaging Automation Ltd, Knutsford
Online Business of the Year:
Businesscomparison.com, Chester
Gastronomy Plus Ltd t/a SousVideTools, Lancaster
SOS Creativity Ltd, Manchester
The Cake Nest, Stockport
Digital, Creative & Media Award:
SQ Digital, Lancaster
Seriun, Burnley
MiniMe Marketing & PR Consultancy, Warrington
Single Malt Design Ltd, Lancaster
Young Entrepreneur of the Year Award:
Centu Consultancy Limited, Bury
Fortify Consultants, Stockport
novi.digital ltd, Lancaster
Akom Creative Ltd, Wallasey
Outstanding Woman in Business:
Joanne Hunter, Grasmere Gingerbread, Grasmere
Dionne Holdsworth, Burnley Campus Social Enterprise Ltd
Terri Kearney, Nightstop Communities Northwest CIC, Widnes
Sharon Taylor, Paragon Print and Marketing Solutions, Stockport
Jenn Hulme, MID Communications Limited, Oldham
Cheryl Latham, Brighter World Energy, Manchester
Family Business of the Year:
Logs Direct Ltd, Lancaster
Hyway Logistics, Horwich
Laila's Fine Foods Ltd, Bispham
Nanny Brow B&B, Ambleside
Hippo Motor Group Blackburn
Professional Firm of the Year:
Gorilla Accounting, Bolton
LegalforLandlords, Warrington
Rotherham Taylor Limited, Preston
Jones Harris Limited, Fleetwood
Customer Service Award:
Involvement Packaging Ltd, Hyde
SilverDoor & Citybase Apartments, Lancaster
Jones Harris Limited, Fleetwood
MID Communications Limited, Oldham
Manufacturing Business of the Year:
Packaging Automation Ltd, Knutsford
SPL International, Ellesmere Port
Riggs Autopack Ltd, Nelson
Pendle Engineering Limited, Nelson
High Growth Business of the Year:
Exchange Utility, Bury
Gorilla Accounting, Bolton
Medica Forte, Macclesfield
Riggs Autopack Ltd, Nelson
International Business of the Year:
DanTech UK, Burscough
SPL International, Ellesmere Port
Vision Support Services, Blackburn
Business of the Year:
Exchange Utility, Bury
Vision Support Services, Blackburn
Packaging Automation Ltd, Knutsford
Clear Law LLP, Manchester