One Agency Media Sponsors E3 Business Awards Y2017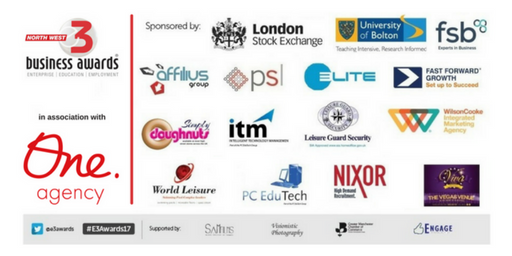 Manchester based advertising agency, One Agency Media has been named headline sponsor of the 2017 E3 Business Awards. The event itself will take place on Thursday 13th July at the Macron Stadium in Bolton.
The announcement follows a deal agreed this week with the event hosts, 1 Events Media.
"The similarity between our two companies' names is pure coincidence," said 1EM managing director Mubarak Chati. "We host events like the Awards and the E3 Business Expo, while One Agency Media is a full service media planning and buying agency. However, as this sponsorship agreement shows, there are real synergies to our work. We both offer north west businesses effective platforms for building market awareness. 1EM is all about face-to-face contact, and where our work stops, One Agency Media's advertising services can take over.
"We're very pleased that One Agency Media have chosen to support us. It seems that the Awards grow in scope and reputation every year, so I'm confident that our sponsors will take a great deal away from this. I'd personally like to thank the company's managing director, Dean McCormick, for his interest. I know we're both looking forward to working together."
Commenting on the decision, Dean McCormick said: "We've seen the E3 Business Awards get bigger and better every year. They have become an important event in the region's business calendar and, quite simply, we wanted to be a part of them. The event has created a vibrant community of ambitious, growing and successful enterprises, and these are precisely the sorts of organisations we want to be working with. The E3 Awards have always been about building bridges between people and businesses, so as a firm that exists to help clients do better business, we'd like to take the opportunity to forge some links of our own."
This year's E3 Business Awards will feature a total of 18 awards categories. As part of its sponsorship deal, One Agency Media will present the Charity of the Year award.
Nominations will remain open until 19th April.
Candidates can nominate themselves or they may be nominated by others.