Judges named for Y2017 E3 Business Awards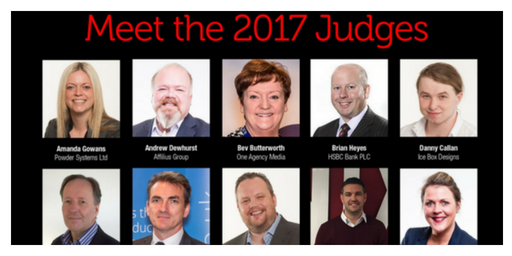 The judging panel for the 2017 E3 Business Awards has now been named. The organiser, 1 Events Media has selected a total of twenty-six judges from the fields of business, education and business support. The judges will apply their collective experience to assessing award nominations from companies, entrepreneurs and social enterprises across the North West.
There are eighteen award categories in all and nominations closed on Wednesday 19th April.
The judging process will entail an examination of written submissions followed by interviews with all shortlisted nominees. These will take place between 16th and 18th May at the Kilhey Court Macdonald Hotel in Standish.
The winners will be announced at the E3 Awards evening, which will take place on Thursday 13th July at the Macron Stadium in Bolton.
The judges are hoping to see nominations from mainstream businesses as well as groups that may be under-represented in traditional awards programmes – groups such as rural businesses, female entrepreneurs, social enterprises and those coping with disability. In order to keep a strong emphasis on diversity, 1EM has selected judges from different sectors, communities and business types.
The judges include:
 Amanda Gowans; Managing Director, Powder Systems Ltd, Liverpool

 Andrew Dewhurst; Managing Director, Affilius Group, Accrington

 Bev Butterworth; Business Manager, One Agecny Media, Manchester

 Brian Heyes; Area Director, HSBC Bank PLC, Preston

 Danny Callan; Director, Ice Box Designs, Manchester

 David Herington; CEO, Etail Systems, Barrow-in-Furness

 Fenner Pearson; Managing Director, Meantime IT, Kendal

 James Brayshaw; Managing Director, AdaptiveComms, Southport

 James Shelton; Managing Director, Marked Advantage, Manchester

 Jemma Taylor; Regional Sales Manager, Aldermore Group PLC, Peterborough

 John Daly; Partner: Corporate Finance, RSM, Preston

 Julie Robinson; Chief Executive Officer, Alliance Learning, Bolton

 Lisa Byrne; Director, One Agency Media, Manchester

 Lisa Edge; Director, Lancashare, Preston

 Liz Hey; Managing Director, Elizabeth Jane Associates, Rochdale

 Mark Fahy; Head of UK SMEs, London Stock Exchange Group, London

 Mark Law; Managing Director, Wilson Cooke, Bury

 Martin Heywood; Managing Director, Viva Blackpool, Fylde

 Martyn Shaw; Director, Business Development, University of Bolton

 Mike Orme; Founding Director, Fast Forward Growth, Blackburn

 Naomi Timperley; Co-Founder, Tech North Advocates, Macclesfield

 Paul Foster; Development Manager, Federation of Small Businesses, Lancashire & Cumbria

 Phil Burrows; Managing Director, PC Edutech Ltd, Bury

 Richard Alford; Managing Director, Blackbear IT Solutions, Lancaster

 Sajid Kadva; Operations Director, Leisure Guard Security, Bolton

 Stephen Pritchard; CEO, Matrix 247, Rossendale
"Each year, we've felt compelled to extend and enlarge the E3 Awards," notes 1EM managing director, Mubarak Chati. "The scope and volume of previous entries prompted us to add two new award categories this year. As a result, we've also had to increase the capacity of the judging panels. This year, we'll have two panel sessions on each of the three days so we can get through all eighteen categories.
"It's a big task and I'm very grateful to our judges for volunteering their time – in some cases for more than one session. We rely on the judges to make the E3 Business Awards completely impartial and independent, and given the calibre of entrants in recent years, it's certainly a challenge for everyone to agree the ultimate winners."