Nominations Open – 2017 E3 Business Awards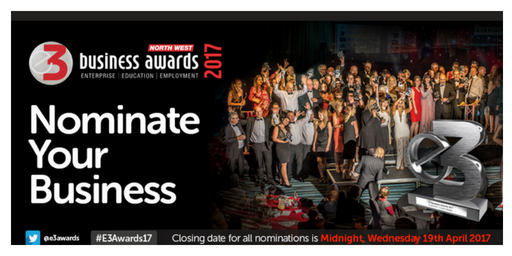 1 Events Media are delighted to announce that the annual E3 Business Awards is now open for 2017 nominations. The E3 Awards are designed to promote diversity, recognising the efforts of entrepreneurs and be truly representative of the business sector across the North West.
There will be 18 separate award categories, with entries welcomed from small to medium-sized business, entrepreneurs, charities and social enterprises throughout the North West region.
The confirmed categories for 2017 will be:

 New Business Start-Up of the Year

 Corporate Social Responsibility Award

 Charity of the Year

 Social Enterprise of the Year

 Skills, Education and Training Award

 Employer of the Year

 Online Business of the Year

 Digital, Creative and Media Award

 Young Entrepreneur of the Year

 Outstanding Woman in Business

 Green Business Award

 Family Business of the Year

 Professional Firm of the Year

 Customer Service Award

 Manufacturing Business of the Year

 High Growth Business of the Year

 International Business of the Year

 Business of the Year
The Awards ceremony will take place at Bolton's Macron Stadium on Thursday 13th July 2017.
1 Events Media's Managing Director, Mubarak Chati, said: "Businesses in the North West are showing incredible ingenuity and contribution to both local and regional economies. We want the E3 Awards to celebrate this diversity and all of the amazing things that businesses have achieved. This is now our fifth year of running the E3 Awards and with the event growing year-upon-year, we're looking forward to a new wave of application nominations. We'd especially love to hear from any businesses who conduct their business in unusual or different ways.
"The 2016 E3 Awards were a great success, displaying a strong representation of outstanding North West businesses. Regardless of location, age or industry, if you're achieving positive things then we want to know about them. We're looking forward to another exciting 2017 Awards event."
Candidates can nominate themselves or they may be nominated by others.