A Winner's Perspective – National Forum for Health & Wellbeing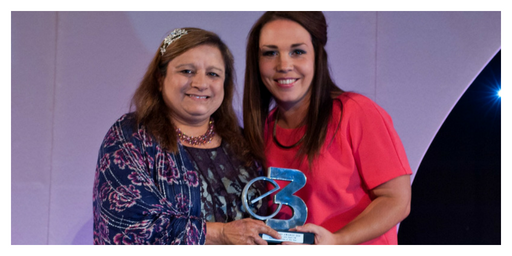 At the 2014 E3 Awards, the National Forum for Health & Wellbeing was named Social Enterprise of the Year. The organisation – now a registered charity – promotes health awareness in local communities and organises a series of annual Health Melas. In this article, NFHW Secretary, Sarifa Kabir, recounts her experiences of winning the award.
What were your reactions to being named the 2014 Social Enterprise of the Year?
We were very proud to be recognised for our work and engagement in the community. When we were named as an E3 finalist it felt great, but to win the award in the Social Enterprise category was fantastic. All our hard work over the past 14 years was recognised; people appreciated that we had made a difference – raising public awareness and empowering the community to lead healthier, more active lifestyles. The award was also a reflection on the support we have received from our partners, and through it, we were all able to celebrate the network we have built over the last 14 years. It is this collaboration that has made the NFHW the success it is. The E3 Award has emphasised the importance of the NFHW in the community.
What factors do you think were key to your success?
The key to the success of the NFHW approach is the ability to engage with local communities and to empower them to take control of their own health and wellbeing. We do this by providing information for areas of support and continuity of healthcare. Voluntary input by professionals in the NHS and other organisations has strengthened the NFHW by providing a platform to network and share information. Participation and partnership by the Rotary Clubs, universities and other educational institutions has greatly increased our networking capacity and enabled us to reach communities beyond our local area.
Communities are acknowledging the benefits of the information we provide and our awareness-raising work. This not only takes the form of our various Health Melas but also material published on the website (www.nfhw.org.uk)  and at healthy living seminars and conferences arranged at Bolton University. Bolton University is the base for NFHW with respect to Research into Health and Wellbeing. The Research Department has encouraged and supported the NFHW in reviewing the feedback.
Another key factor has been our growth; a few years ago we used to have just one Health Mela. Now we are arranging up to 6 annually and there is increasing demand for the Health Melas in other areas, where people are beginning to see the benefits and the importance of raising health awareness within their communities.
How have you made use of your status as an E3 Award-winner?
After the awards event, we publicised the news internally, to let the whole team know about their collective success, and we issued news releases to the press and our various partners: schools, the Rotary Clubs and other supporting organisations, both in the UK and overseas. The E3 Award was a good opportunity to celebrate our partnerships. We made it clear to everyone that this was a joint award; without our networking and partners we would not have been successful.
Once the NFHW was awarded the E3 Social Enterprise Award we were able to use the E3 award winner's logo on our website in and in many promotional materials. The award has strengthened our partnership with other organisations that who have also helped publicise our success at special events and in newsletters. We have updated our pull-up banners, signs and posters. The news also featured in many news releases from ourselves and from our main partners such as the Rotary Clubs and universities. We proudly displayed the E3 award at Fleetwood Health Mela 2014. A presentation was given on the successes of the NFHW, and displaying the E3 Award made it feel so much more real.
NFHW has also formed partners internationally with Westridge Hilton School Baskhari India. The school was very proud of our E3 Award and advertised it at their school. We have encouraged schools to be involved in our Health Mela events and we successfully held our first health Mela in a school in Fleetwood shortly after our award was announced. We were very proud to display the E3 Winner's logo on  banners and posters. We are also arranging a Health Mela at Academy@Worden school in Leyland 2015 and it will feature there, too.
We feel we have certainly made the most of our award. It has been really good for us to be recognised of our achievement, and it has played an important role in gaining good publicity and enhancing our role in the community. Ultimately, it is helping us to do our work effectively – empowering people to look after their own health and wellbeing.
What would you say to North West companies that may be thinking about putting in a nomination?
We would always encourage organisations to put in a nomination as the very fact of being nominated increases your status and creates interest in your work. Even to be a finalist is rewarding, but to be a winner is amazing! We would encourage all candidates to enter and perhaps experience what it is like to be a winner.