A Winner's Perspective – R-Com Consulting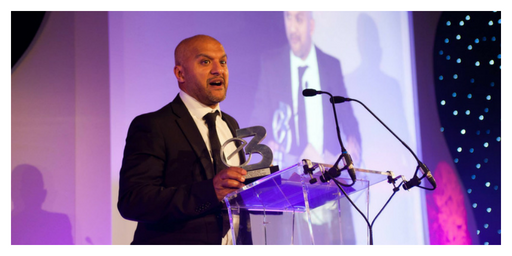 At last year's E3 Awards, the winner of the High Growth Business of the Year award category was the Stockport based R-Com Consulting, a specialist in IT infrastructure. In this article, Commercial Director Ayaz Rathore discusses his experience of winning the award and how the company has benefited from it.
What were your reactions to being named the 2014 High Growth Business of the Year?
I must admit the category was a particularly strong one and I had researched the other nominees. In all honesty, I was not anticipating a win, and absolutely elated when we discovered we'd won. E3 had not only acknowledged R-Com by shortlisting us, but announced us as the winner in a very tough group of nominees. Awards like this are crucial to R-Com because they acknowledge team success, not just individual success. The entire table thoroughly enjoyed joining me on stage to share a wonderful moment.
What factors do you think were key to your success?
The business has enjoyed considerable growth by simply creating a plan and executing it. The plan for R-Com gave us visibility and understanding, not only of where we stand at a particular moment in time, but where we would like our journey to proceed to. 'Plan' is one of the best four-letter-words out there.
One of the key factors as far as the judges were concerned must have been the scale and speed of our growth. We started in 1999 as one of IBM's primary UK Education Centres and we are now fast becoming the 'one to watch' IT systems provider – not just in the UK but internationally. We've sought to provide a one-stop shop for all business IT needs, including storage, systems, cloud and much more. Customers have responded really well and we've enjoyed a massive growth period during the last 5 years. In 2010, our turnover hit the £1 million mark and by the end of 2015, we expect to have exceeded £15 million.
In business terms, that has meant a huge rise in activity and a clear need to expand. In late 2014, we moved to a new five-thousand square foot self-contained office building in Heaton Mersey, and we are now setting our sights on establishing a second base in the Middle East.
Since we won the E3 Award, we've been nominated in the Sunday Times Fast Track List which ranks privately owned UK technology companies by rate of growth. We were ranked 19th in 2013 and 34th in 2014, so we feel we're maintaining an impressive performance. What's more, we're now attracting many new customers from the Gulf states so we're confident that we'll continue at a similar pace in 2015 and beyond.
How have you made use of your status as an E3 Award-winner?
The nominee certificate and the award itself have taken pride of place in our awards cabinet, along with other industry awards that we have received recently. We have also featured the E3 award in our marketing collateral and internal and external presentations. In particular, we have made use of the excellent, professionally-shot photographs and videos from the night – all highlighting the award and E3.
Internally, winning the award has given everyone a real lift. We've all been working hard and so it's great to receive this kind of recognition. Go for it
What would you say to North West companies that may be thinking about putting in a nomination?
Go for it! As an awards ceremony, this was one of the best organised that I have ever attended. Pre and post event, the co-ordination was superb. I cannot recommend the E3 awards highly enough.