A Winner's Perspective – Powder Systems Limited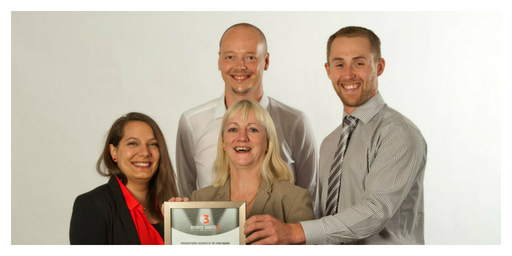 At last year's E3 Awards, the winner of the Manufacturing Business of the Year award category was the Merseyside based innovative manufacturer, Powder Systems Ltd (PSL). In this article, co-founder Karen Pitcher discusses her experience of winning the award and how the company has benefited from it.
What were your reactions to being named the 2014 Manufacturing Business of the Year?
We were very honoured and proud to bring back this award with us. 2014 was a great year for PSL; we won a total of 4 awards in recognition for all our staff's hard work. We have been in business for over 25 years and staying at the forefront of our industry isn't easy! PSL's workforce is doing an amazing job every day, manufacturing advanced process equipment, and it was great to bring them another award acknowledging their effort.
What factors do you think were key to your success?
We are continuously growing our business thanks to our employees' commitment. In our niche market, it is essential to stay innovative while maintaining the highest quality standards. We work with blue-chip pharmaceutical groups, producing tomorrow's drug 'blockbusters'. We constantly need to develop new technologies to improve pharmaceutical manufacturing processes. This investment and commitment to R&D has been one of our main levers, enabling us to be where we are today.
Besides its manufacturing success, PSL's sustainable growth is also due to a worldwide coverage – with 7 overseas offices and an increasing distribution network. Over 90% of our turnover now originates from outside the UK.
How have you made use of your status as an E3 Award-winner?
Winning this renowned award was a great PR opportunity not just in our industry, but in-house as well. I received the award the night before our 25th anniversary party; it was great to present the trophy to all our international staff who were gathered for our annual celebration event.
We also promoted the award internally in our newsletter, which is sent to all the staff, and our blog along with the three other awards we obtained in 2014. But the E3 Manufacturer of the Year had a special meaning for our staff as it's a collective effort to design, manufacture and deliver such high quality machines, and they all felt proud to be recognised by the community.
Of course, our marketing team made use of the status as well by issuing press releases to the industry and local press entities. The award has strengthened our branding and our leading position as a British manufacturer of quality equipment, and it has brought us some additional credentials in our home territory.
What would you say to North West companies that may be thinking about putting in a nomination?
The E3 Award is a fantastic journey and, winner or not, it brought people together – from the nomination round, right up to the night of the ceremony. It is a good opportunity to stop and think of what we are doing right and why our business is successful.
At the end, being recognised for your efforts is always motivating for your organisation and a good publicity exercise. The award organisers are great people to work with and, along the way, it was also a chance to network with other North West companies.