E3 Business Awards: Deadline Approaches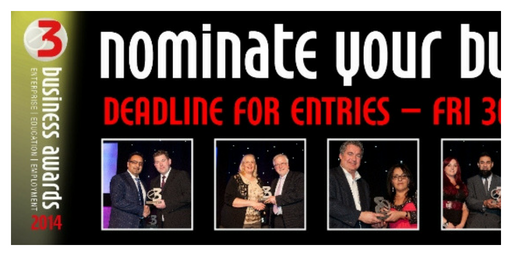 Companies, charities and entrepreneurs wishing to enter this year's  E3 Business Awards have until 30th May 2014 to submit their nominations.
Taking place on 18th September at the Reebok Stadium in Bolton, the E3 Awards recognise businesses and individuals whose work is having a positive impact upon local communities and the regional economy. There are 12 award categories in all and the host, 1 Events Media, reports that it has seen a marked increase in nominees compared last year. In fact, such has been the level of interest that the organisers have extended the deadline by two weeks to allow for the large number of late entries.
"We have a little less than a month to go before nominations close," notes 1EM managing director Mubarak Chati, " but 2014 has already produced a higher number of entries than last year. The success of the 2013 event has certainly helped to boost awareness and I'm pleased to see that we're now  seeing much more competition from a wider geographical area, from Cumbria to Cheshire, Manchester to Merseyside.
"Some categories are going to be especially hard fought and creating the shortlists is going to be very challenging indeed, but that shouldn't deter anyone from submitting an entry. The judges are always going to be looking out for businesses and social enterprises with an interesting or unusual tale to tell.
We welcome nominations across all categories but we're especially interested to hear about achievements in the field of corporate social responsibility and those who have made a real investment in skills, training and new employment."
The twelve award categories include:
1. New Business Start-up of the Year
2. Corporate Social Responsibility Award
3. Social Enterprise of the Year
4. Skills, Education and Training Award
5. Employer of the Year
6. Digital, Creative and Media Award
7. Young Entrepreneur of the Year
8. Outstanding Woman in Business Award
9. Manufacturing Business of the Year
10. High Growth Business of the Year
11. International Business of the Year
12. Business of the Year
Candidates may nominate themselves or they may be nominated by third parties.
Further information can be obtained by calling 1 Events Media on 01254 790 786.