Important Announcement – A new journey for 1 Events Media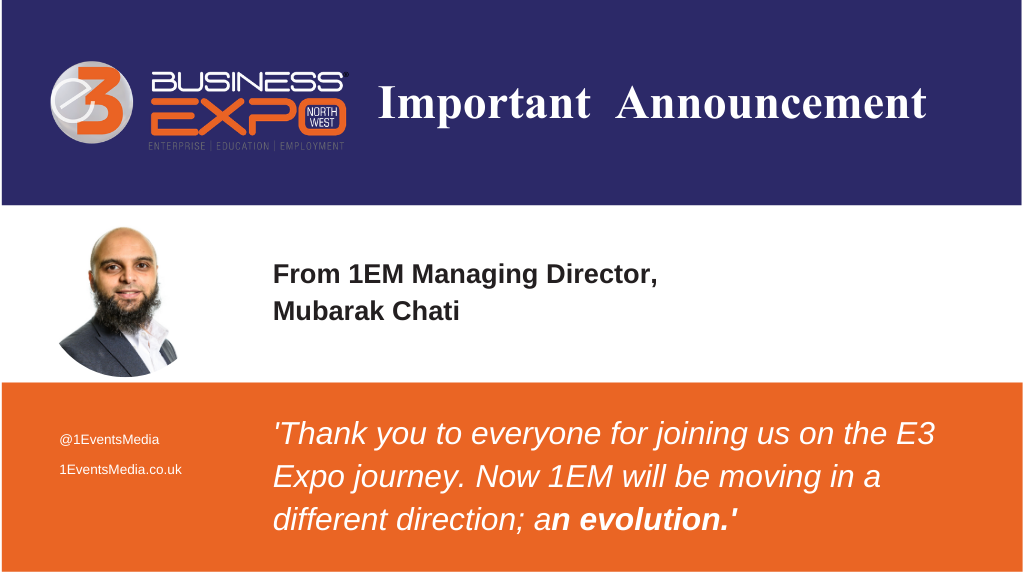 Please note that there is no E3 Business Expo scheduled for 2020.
We're extremely grateful to all the sponsors, exhibitors, speakers and visitors that have supported us in recent years but the pressures of time and other priorities have prompted us to re-consider our direction for 2020.
It's been wonderful to see the E3 Business Expo appreciated by so many North West businesses, but we have to acknowledge that there are numerous other ways in which 1 Events Media can be helping other people, enterprises and communities. Over the last two years in particular, clients have increasingly been asking us to deliver services on their behalf, and now we feel it's time to grasp that opportunity.
Consequently, we are suspending our usual annual events offering instead a new range of services to help businesses to grow. These services will build on our experience of marketing and event management, and they'll be designed to deliver real value to all those firms and other organisations that we have come to know so well.
So we thank you, very sincerely, for all your support, but now we feel a need to change.
For more information, please click here to read a full statement from our MD, Mubarak Chati.