Business-Targeting Seminar, E3 EXPO, 3rd April 2019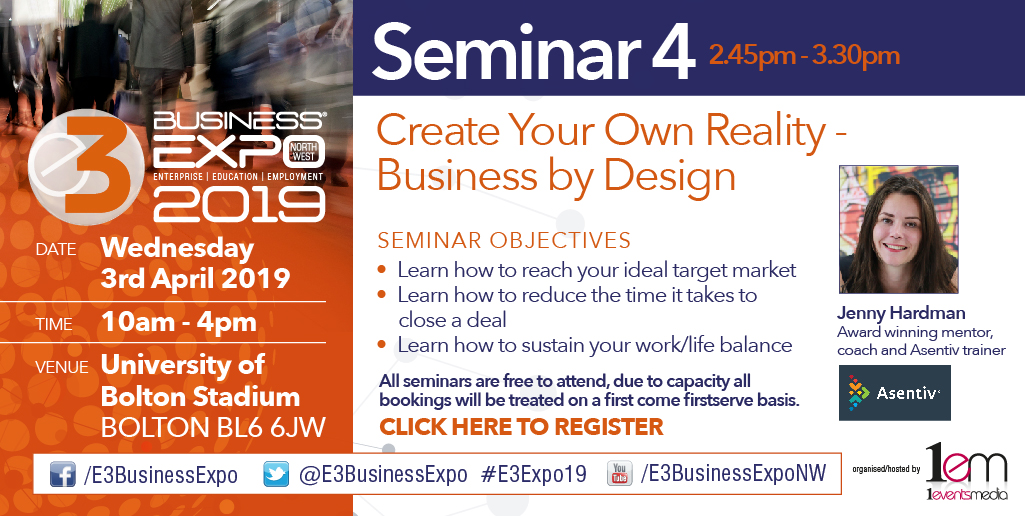 On Wednesday 3rd April, award-winning business coach Jenny Hardman will deliver a free seminar entitled "Business by Design." Held as part of the E3 Business Expo 2019 in Bolton, the 45 minute presentation will discuss how business development professionals can approach their ideal customers more effectively and reduce the time it takes to close a deal.
This seminar will be the last of four held throughout the course of the Expo, which will take place between 10am and 4pm at the Bolton University Stadium. Entrance is free. The seminar itself will run from 2:45pm to 3:30pm.
"Many people believe that their target audience is 'anyone and everyone'," notes Jenny, "so they spend huge amounts of time with people who will never buy from them. Using this 'fire hose' approach is ineffective, resulting in frustration and stress, which often spills into home life.
 "This seminar will help visitors to develop a more defined idea of who their target market is and, consequently, how they can reduce client acquisition time – from many hours down to just a few minutes. We'll be looking at find ways of working with those you choose to work with, and not those who cause you pain and suffering."
In addition to the seminar programme, the Expo will feature speed networking sessions, free food and refreshments, and a busy exhibition hall with around 50 stands.
"Jenny is a very successful entrepreneur in her own right," said Mubarak Chati, managing director of 1 Events Media, the company which hosts and organises the event. "She really understands the value of time – both work time and private time – so much of her seminar will be about how to make the most of it. It should be of interest to business development staff, business owners and anyone who feels a need for a better work-life balance."
Details of exhibitors, the seminar programme and visitor registration can all be found here.