Important Announcement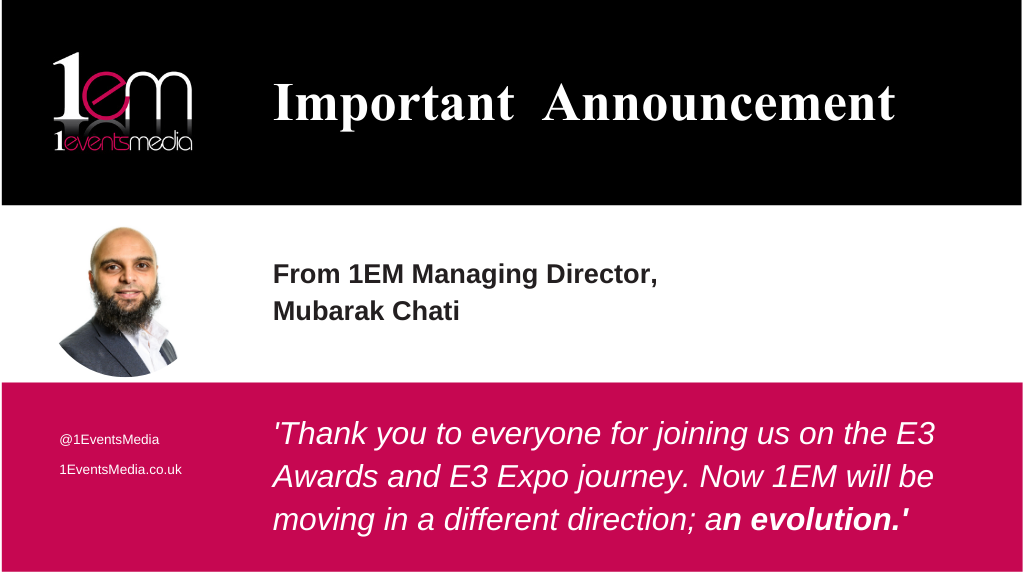 For some time now, I've been considering the future direction of 1 Events Media and I've decided to make some significant changes. The most important of these is that I've decided to suspend the E3 Business Awards and the E3 Business Expo. We'll keep the domain names and the two brands, so we can revive them at a future date if necessary, but for the foreseeable future, 1EM will be moving in a different direction.
I won't pretend that this has been an easy decision. Over the years, the Awards and the Expo have both built up strong communities of regular participants, and I want everyone to know how grateful I have been for their support. Together, we created two popular and powerful events that really succeeded in their aims of building bridges between people, businesses and communities. Genuinely, I want to thank you all for being a part of that journey.
Turning away from that is therefore difficult, but over the last year in particular, I've been increasingly conscious of how much time is involved in organising those events, and how that has forced 1EM to miss some other important opportunities. That's a trade-off that I'm sure is familiar to us all; time is a scarce commodity and we need to be very careful about how we spend it.
In recent years, 1EM has seen its profile rising, and more and more contacts have come forward to ask if we can help them with things like event management, networking, marketing, training, consultancy and more. In 2018 and 2019, I was also fortunate enough to be asked to help organise a large community event in Blackburn and this further emphasised to me that there are all sorts of additional ways in which 1EM could be helping other people and organisations.
In short, then, 1EM will now be looking to do for others what, previously, we have been doing for ourselves under the umbrella of the E3 Business Awards and the E3 Business Expo.
In practical terms, that means we'll be putting our experience, time and resources at the disposal of customers, throughout the Northwest and beyond. We'll be restructuring our websites over the next few weeks to explain this in more detail but, in essence, we'll be offering a range of services including:
• Event management: organising and promoting clients' events
• Exhibitor training: training exhibitor teams to make the most of their expos
• Marketing support: branding, social media, digital marketing, copywriting and more
• Business consultancy: project management, outsourced services etc.
For us, this represents an evolution; a chance to help our friends, contacts and customers in new and valuable ways. For you, it's an opportunity to work with us on a new footing. We hope the E3 events proved that we truly want you to thrive, and now we're offering new ways of making that happen.
Once again, thank you.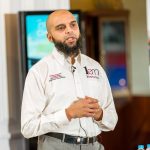 Mubarak Chati