Stand Bookings Open for E3 Business Expo 2020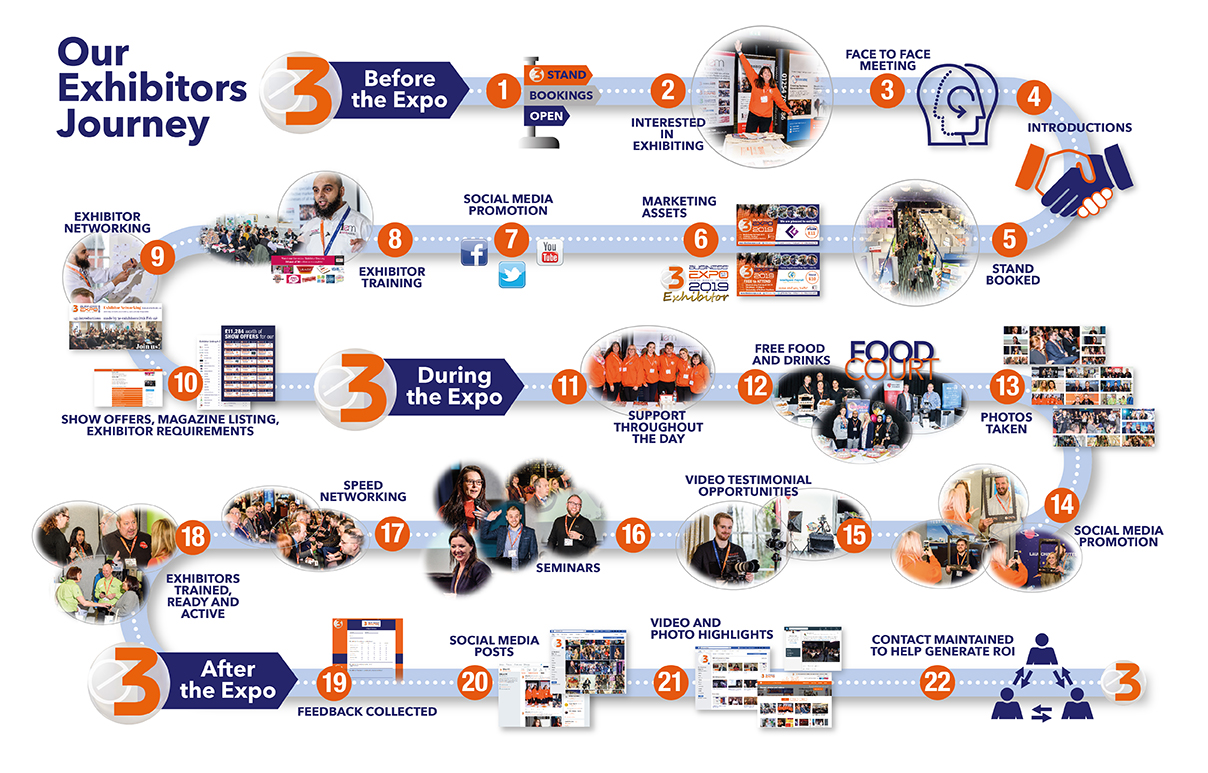 The dust might only just have settled on the E3 Business Expo 2019 but planning is already underway for next year's event.
Accordingly, 1 Events Media is pleased to announce that stand bookings are now open for the E3 Business Expo 2020, which will take place between 10am and 4pm on 18th March. It will be held at its usual venue – the Premiere Suite at the University of Bolton Stadium, formerly known as the Macron Stadium.
As we noted in our video tutorial series about how to maximise your return on investment as an exhibitor, booking early can make a big difference to your preparedness and the results you see on the day. It always makes sense to give yourself as much time as possible to plan, to produce appropriate marketing materials, and to promote your attendance to your target markets. With that in mind, we wanted to give exhibitors as much notice as we could.
For 2019, we set ourselves the challenge of helping every E3 exhibitor to achieve a clear return on investment. In many cases, we achieved that goal even before the Expo itself had started.
How did we do that? By working closely with exhibitors in advance of the event. We met them, brought them together, explored their mutual commercial interests and made introductions in an effort to deliver positive results for everyone. We provided exhibitor training, we organised networking opportunities especially for exhibitors and we provided support throughout.
Blackpool-based digital marketing agency Code Galaxy was one of the exhibitors that saw early returns. "We were visitors to the Expo in 2018," said company director Mary Speakman, "and that was very good for us, so we decided to exhibit in 2019. Mubarak's support was great throughout the preparations for the Expo. Even before the Expo started, he had helped us to make new contacts that more than paid for the cost of the stand. The day itself was positive, too; we met lots of good prospects and we're confident that we'll improve our total return as a result of follow up meetings and new sales. We'll certainly be exhibiting next year."
For 2020, we will be pursuing the same ambitious goal: a clear ROI for every exhibitor. It's because we're passionate about making sure that the E3 Expo provides real value for people – stand holders and visitors alike. As a company that regularly takes stands at other exhibitions, we know what a commitment it is to exhibit, and how important it is that the event pays for itself.
As a result, exhibitors at next year's Expo can expect full support at every stage, and lots of good opportunities to make new contacts. We've produced an infographic that illustrates the exhibitor journey and the support you can expect along the way. (Please click on the image to enlarge.)
If you'd like to book a stand at the E3 Business Expo 2020, please visit our 2020 bookings page.