Business Relationship Specialist to Offer Free Advice at E3 EXPO, March 2018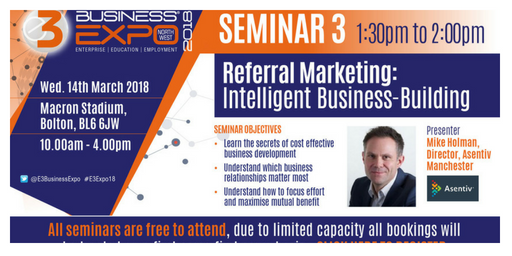 n Wednesday 14th March, the E3 Business Expo 2018 will feature a free seminar explaining the value of developing effective referral marketing strategies. It will show how firms can boost sales and market profile by building mutually beneficial relationships that yield a steady stream of recommendations.
The speaker will be Mike Holman, Director at Asentiv Manchester and one of the UK's leading experts in relational marketing. He will be emphasising the importance of establishing proactive, reciprocal relationships and making more intelligent use of existing contacts. The half-hour session will run from 1:30 to 2:00pm.
Mike's will be one of a series of seminars held throughout the course of the E3 Business Expo, which will be held at the Macron Stadium in Bolton between 10am and 4pm. Hosted and organised by 1 Events Media, the event will also feature speed networking opportunities and an exhibition area with over 70 stands. Entry is free.
The exhibition hall will feature a series of separately themed zones focusing on important commercial issues such as fleet management, energy and business support services. The seminars will be similarly themed and the relationship marketing seminar is expected to be especially popular, as Mubarak Chati, 1EM's managing director explains.
"Business development is a key challenge for almost every company, but while there are countless sales and marketing channels for managers to consider, people often lose sight of the importance of existing contacts. Really investing in mutually beneficial relationships is a very cost-effective approach. For many companies, more than half of all new business comes from referrals.
"I'm delighted that Mike will be presenting because I know firsthand how effective his methods are. As an organiser of exhibitions and awards dinners, I have inevitably built up a great many connections – some more productive than others. What I needed was a framework that helped me to develop more effective relationships that led, ultimately, to more sales.
"I've recently completed the Asentiv programme and it has provided the insights I needed. It has shown how to apply a strategy to relationship-building – which is something I've found challenging and mentally stimulating. Knowing how useful it's been to me, I'm sure the seminar will be extremely well received."
In addition to delivering the seminar, Mike Holman will be presenting certificates of achievement to delegates who recently completed the Asentiv course. These will include several exhibitors at the Expo.
Details of the seminar programme, the exhibitors and visitor registration can all be found here.