Business Growth Experts Address 1EM Networking Event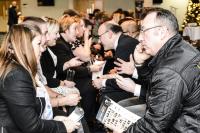 On Wednesday 25th November, delegates from the North West business community attended a 1 Events Media networking event at the Bolton Whites Hotel, where they heard presentations by experts in the fields of business growth, marketing and communications.
In all, more than 50 companies attended the event, which began with a presentation by local business marketing specialist, The Best of Bolton. Director David Ramsden highlighted the value of encouraging links between businesses from similar areas and emphasised the importance of planned marketing. He urged businesses not to fall into the trap of simply 'doing what they do' every day but, instead, to think strategically about how to maintain brand awareness and how to be the best they can be.
The second speaker was James Brayshaw, founder of the Southport-based IT and communications specialist, AdaptiveComms. He alerted delegates to emerging trends in business telephony – such as the eventual termination of ISDN – and to the significant savings and user benefits its successor technologies would deliver. He also pointed to the growing use of cloud-based computing, which he said could often provide a cost effective, 'future-proofed' alternative to investment in expensive new hardware.
This was followed by an address by Tony Ward, Business Growth Manager for GrowthAccelerator in Greater Manchester. He explained the role of the Business Growth Service – the government-backed business support agency – and some of the many programmes that exist to help companies expand and invest in innovation. In particular, he discussed the ways in which the Service affords access to funding for leadership and management training, to expert coaching, and to a series of business workshops delivered by Winning Pitch.
"All three speakers contributed something valuable to this event," said Mubarak Chati, managing director of 1 Events Media. "Having access to such relevant expertise is undoubtedly one of the key reasons why these networking events have become so popular. We originally planned to take just 30 delegates but such was the demand that we twice had to extend it, and we also had to make it an hour longer to make time for a second networking session between six and seven PM.
"There's no doubt that the delegates took a great deal away from the session. The speed networking was fast and furious, and the three speakers also faced a host of one-to-one questions. The feedback has been great and we're certainly looking forward to the next event in January."
1 Events Media is holding a series of free networking sessions throughout the North West. Details of its schedule can be found here. Bookings can be made online.