1 Events Media Builds Its E3 EXPO Team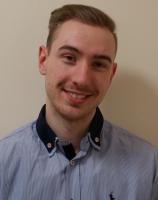 1 Events Media, the host and organiser of the E3 Business Awards and the forthcoming E3 Business Expo, has appointed Joshua Riddett as its new Business Development Manager.
Working from 1 Event Media's head office in Blackburn, he will support the continuing expansion of the company, which, in addition to the trade exhibition and business awards, also runs a busy programme of regional networking events. His initial focus will be on the E3 Business Expo, which will be held on 3rd March 2016 at the Macron Stadium in Bolton.
"Josh's skills and experience are going to be very valuable to us," said Mubarak Chati, managing director of 1 Events Media. "He has proven strengths as a manager, as a facilitator and as a driver of new initiatives, and with the E3 Expo just a few short months away, his priority will be to strengthen our links with business groups and associations throughout the North West."
Joshua has long been an enthusiastic proponent of business and enterprise. In 2013, he was named 'IBM Business Innovation Student of the Year' and the following year, he was named the winner of another prestigious award: Lord Young's 'Outstanding Contribution to Enterprise.' He is President of Lancaster Entrepreneurs at Lancaster University and, since assuming the role in March 2014, the group has seen its membership grow by more than 1000%. His career to date has included roles in sales, freight and financial services, and he has run a number of successful small businesses.
"I'm very pleased to be taking on this new role," he said. "The E3 events are about recognising the value of enterprise, education and employment – and all the social and commercial benefits that result from successful entrepreneurship. These are subjects that are very close to my heart so I'm really enthusiastic about getting behind the Expo and the Awards. Both events play an important role in fostering new links between North West businesses and helping them work more effectively together."
The E3 Business Expo is a one-day business-to-business trade exhibition and the inaugural event will be held in the Premier Suite of Macron Stadium. It will feature around 90 stands, networking opportunities, a day-long programme of short seminars and – courtesy of the Chartered Institute of Marketing – free marketing clinics for visitors.
A small number of exhibition stands are still available and may be booked online via the E3 Business Expo website – http://www.e3businessexpo.co.uk. The site also lists details of the seminar programme.
Visitor registrations will open on the 4th January 2016.