E3 Business Awards – 2014 Date Announced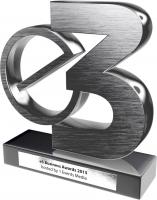 The North West's leading multicultural awards programme for enterprise, education and employment – the E3 Business Awards – will be held this year on Thursday 18th September at Bolton's Reebok Stadium.
Last year, the E3 Awards attracted more than 700 delegates and received nominations from every county in the North West – from Cheshire to Cumbria; Merseyside to Manchester. In 2014, the twelve award categories will again be open to mainstream businesses as well as to social enterprises and to individual entrepreneurs from under-represented communities. Amongst others, there will be awards for young entrepreneurs, women in business, companies investing in skills and training, and those whose corporate social responsibility policies have yielded real benefits for people and communities.
"2013 marked the launch of the E3 Business Awards," said Mubarak Chati, director of 1 Events Media. "We received hundreds of nominations and the shortlisted nominees represented some of the most impressive and high-performing businesses and entrepreneurs in the region – all of them standing as great examples of what commitment, leadership and a properly developed strategy can achieve.
"In 2014, we're keen to attract even more nominations from companies and social enterprises that are really doing their bit to revitalise the region. The Awards are open to anyone and any business within the North West that has done something special in the last twelve months, and we're keen to hear from a very broad spectrum in terms of age, ethnicity and sector."
The twelve award categories reflect this intent to see submissions from a broad cross-section of society. They include:
1. New Business Start-up of the Year
2. Corporate Social Responsibility Award
3. Social Enterprise of the Year
4. Skills, Education and Training Award
5. Employer of the Year
6. Digital, Creative and Media Award
7. Young Entrepreneur of the Year
8. Outstanding Woman in Business Award
9. Manufacturing Business of the Year
10. High Growth Business of the Year
11. International Business of the Year
12. Business of the Year
Nominations will open in March. Candidates will be able to nominate themselves or they may be nominated by others. In either case, applications should be submitted via the online nomination form opens on 3rd March 14), which also provides more details about the judging criteria for each category.
Information about nominations, sponsorship or attendance can be obtained by calling 1 Events Media on 01254 790 786. A new video about the awards is also available 
here
.